Strategic Plan Monitoring Tool
A SaaS platform that has transformed the way the college works
Discover the Collège Ahuntsic
Located in Montreal, Collège Ahuntsic is an institution of higher learning offering various programs such as continuing education, technical and pre-university programs.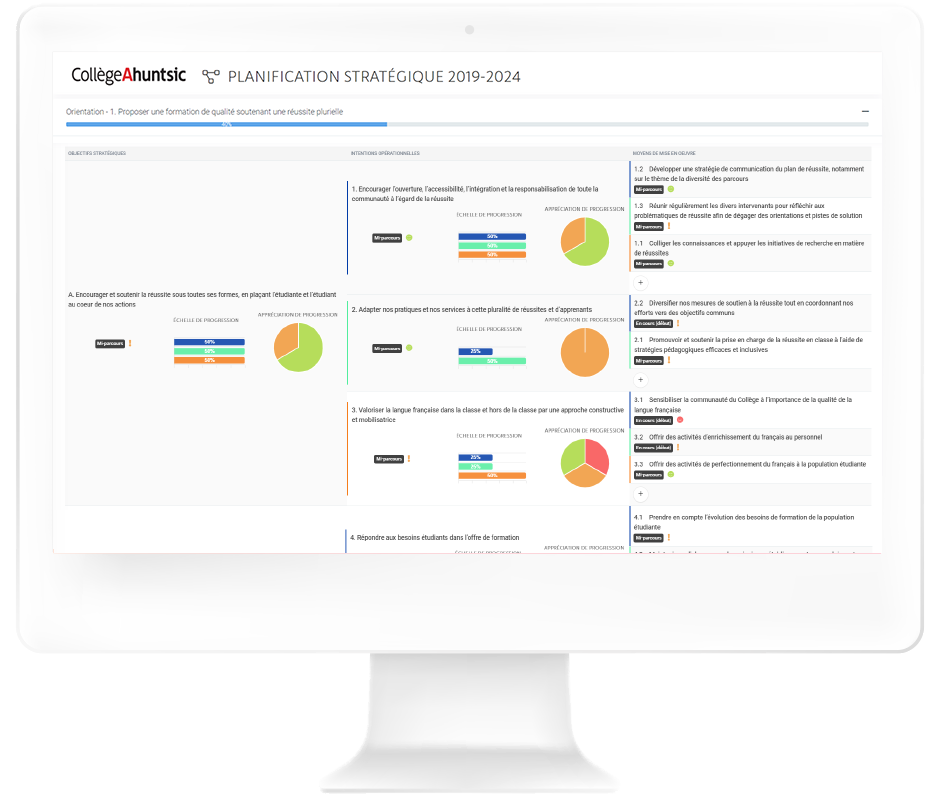 Monitor the strategic plan, all directorate work plans, and reporting to stakeholders.
Development of a strategic planning tool structured in 4 levels
Orientation
Guideline divided into several levels to see the progression in detail
Strategic objectives
Goals to be achieved by the end of the work plan or strategic plan
Operational intents
More detailed definitions of the objectives to be achieved by the institution
Means of implementation
Concrete actions to be taken in order to achieve the strategic objectives
Centralization of all data and plans on a single user-friendly platform
Decentralization of entries by the different directions of the college
Reduction of non-value added administrative work
Production of official documents for the Commission d'évaluation de l'enseignement collégial
"The dvore team supported us in the development and implementation of this solution perfectly suited to our needs."
Alexandre Lupien - IOC Director Collège Ahuntsic
See the positive impact of dvore on all directions of the college institute
Board of Directors
Information Technology
Collaborators
Better monitoring of the progress of the strategic plan and work plans
Automated creation of reports required by stakeholders
Produce customized reports at any time containing institutional learning assessment and program evaluation policies, strategic plans and success plans.
Customized reports
Fast and visual communication of the evolution assessment
Dashboard
Rapid adjustment of major orientations and means of implementation
Databases
Access to data at any time using search filters
Human service and personalized support by experts in digital transformation
Increase security with a professionally implemented platform
Saas solution adapted to the real needs of institutions allowing the digitization of documents and processes for a better control.
Cloud-based
Access to data and documents via the institution's secure server
Logging
History of each modification available at any time
Accessibility
Login identification for each employee with limited access and functionality according to their role
Fostering teamwork through process modernization
Facilitate collaboration between directorates
Implementation of a monitoring tool to improve communication between directorates and reduce non-value-added administrative work.
Cloud-based
Provide employees with work tools that promote collaboration
Transparency
Break down silos between directorates by making information accessible between them
Telecommuting
Tools available at any time and from any location
You would like to optimize the administrative processes of your educational institution?
Talk to one of our digital transformation experts